Given the many varieties of Kratom that are available in smoke shops and online stores, first-time Kratom users may find it bewildering to make a choice. Which should you get? Which will benefit you the most? As importantly, which form should you buy? Leaves, powder, capsules, or liquid Kratom shots? In this post, we will look at what Kratom is and get a brief overview of its different varieties.
Learning about Different Varieties of Kratom
Kratom comes from the leaves of Mitragyna Speciosa, a deciduous tree that occurs in many Southeast Asian countries. While it is predominantly a forest tree, the increasing demand for Kratom has led to the farming of grafted varieties. Finally, the farmers harvest the leaves for direct use, or the leaves may undergo fermenting, indoor drying, or sun-drying before being crushed into powder. You can buy the powder as-is or after being processed into capsules and liquid Kratom shots.
Kratom leaves, which get harvested under ideal tropical weather conditions, contain high levels of alkaloids like mitragynine and 7-hydroxymitragynine. The well-known stimulating, energizing, relaxing, and pain-relieving effects of pure Kratom are due to these alkaloids. And that is why it is crucial to preserve them during the extraction process. Also, many Kratom manufacturers use pressurized extraction with cold water as that conserves the alkaloids.
Different Varieties of Kratom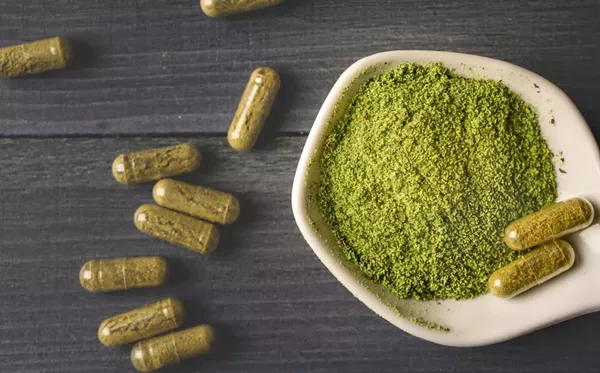 Kratom Varieties
The classification of Kratom is mainly according to the colors of the stems and veins of the leaves. These colors vary according to the maturity of the leaves at the time of harvesting. Here are the three-color types of Kratom:
White Vein Kratom
Its extraction is from young Kratom leaves that are yet to mature and therefore have white veins. After harvesting, the leaves undergo a drying process in the dark. Without a doubt, the resulting Kratom is very potent and has high energy-boosting effects. It is a decent alternative to black coffee and energy drinks and very useful for overcoming exhaustion, staying alert, improving concentration, and alleviating anxiety.
Green Vein Kratom
It is extracted from Kratom leaves after they mature more and the white veins turn green. The collected dark-green leaves first undergo drying in complete darkness indoors and become sun-dried. The Kratom obtained from such leaves is dark green and somewhat less potent than the white variety. It is effective in boosting your energy and giving you better mental clarity. Works as a muscle relaxant and painkiller to alleviate aches and discomfort.
Red Vein Kratom
Red Vein comes from mature Kratom leaves that have red veins and stems. The harvested leaves undergo drying under direct sunlight. In addition, some farmers even use UV lamps to speed up the drying process. Also, the resulting Kratom is very potent and has excellent pain-relieving and sedative effects, making it a very suitable alternative to pharmaceutical painkillers. Its soothing, calming properties are ideal for insomniacs, and it is also useful for combating opiate addiction.
Popular Strains of Kratom
The Kratom extracted from the white-vein, green-vein, and red-vein leaves is further differentiated into assorted Kratom strains, depending on vein colors, leaf blends, alkaloid content, the extraction process, and region of cultivation. Here are some of them:
Sumatra
Vietnam
Cambodia
Malay
Thai
Kapuas
Indo
Borneo
Yellow Vein
Gold
Bentuangie
Elephant
Dragon
To select the right Kratom, decide if you want it for sedative or stimulating purposes and review the effects you can feel from the different Kratom varieties. You can consume Kratom directly or add it to your tea, coffee, and other drinks. It is very potent, so you only need to take a small amount to experience its full effects.
You can buy lab-tested Kratom powder, capsules, and liquid Kratom shots online from My Kratom Club. We ship to legal locations in the United States. However, please consult your doctor before using Kratom especially if you are taking any medications for chronic health conditions.