You have probably seen kratom for sale online, but isn't kratom illegal? This is a common question brought about by the ongoing efforts to battle kratom by the Drug Enforcement Administration (DEA) and by the negativity spread by addiction recovery facilities about the herb. Without a doubt, there is a lot of controversy surrounding the herbal supplement, but at this time it remains legal in the majority of locations in the United States.
What is Kratom?
Kratom Herb
Why do so many people ask, 'Is kratom illegal?' It's because a great deal of mystery surrounds the herb. Kratom is obtained from the foliage of the tropical Mitragyna speciosa tree. The leaves of the tree are brimming with a potent cocktail of alkaloids. For centuries, people throughout SE Asia have extensively used the leaves for the tropical tree as an energy booster and for various other conditions. They would either pick the leaves and chew them fresh or brew them into tea.
Why Make Kratom Illegal?
The alkaloids in kratom impact the body's mu-opioid receptors. Once they bind with the receptors, they spur the body to release the hormones serotonin and dopamine. Those against kratom fear that it acts in much the same way as opioids but without the dangerous addictive qualities (although some do believe it causes addiction in users). Clearly, more research needs to be carried out concerning kratom. Many substances that have minor addictive qualities are commonly used by people such as coffee and soda which are brimming with caffeine. Caffeine is somewhat addictive and also impacts the body.
The DEA Tries to Make Kratom Illegal
In 2016, the DEA made a hard push to make kratom illegal. However, their efforts failed miserably as advocates came forth in support of the herbal supplement. Over 145,000 signatures were obtained, and 6,000 letters were sent to the DEA in support of kratom. In addition, 60 members of Congress contacted the DEA in favor of keeping kratom legal at a federal level. Despite the fact that the DEA tried to ban kratom, they were unable to declare kratom illegal nationwide, the DEA would continue to issue warnings against kratom and to push to have the herb banned.
Where is Kratom Illegal and Legal?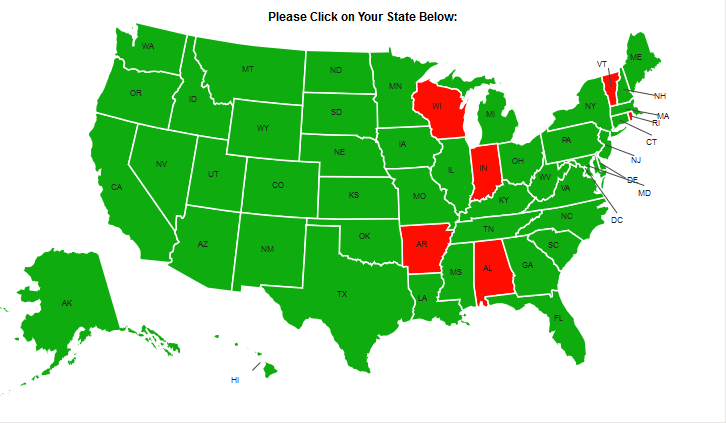 Learning Where Kratom is Legal
Below is a list of where kratom is illegal and legal. Please be aware that laws, especially local laws, are constantly changing so if you are unsure about where kratom is illegal in your home state, county, or city then please contact your local authorities. You can also ask vendors. Typically, reputable online vendors will not ship to an illegal area.
Is Kratom Legal in My State?
Below you will find the breakdown of all 50 states along with the legal status of kratom there:
Alabama – Banned.
Alaska – Legal
Arizona – Legal
Arkansas – Banned.
California – Legal statewide but illegal in San Diego
Colorado – Legal in the state. However, Denver prohibits the sale of kratom if it is to be used for human consumption. Also, Monument and Parker Town have prohibited the sale of kratom.
Connecticut – Legal
Delaware – Legal
Florida – Kratom is legal statewide but banned in Sarasota County. Currently, there are discussions to regulate the herb.
Georgia – Legal
Hawaii – Legal
Idaho – Legal
Illinois – Legal statewide except in Jerseyville City. .
Indiana – Banned.
Iowa – Legal
Kansas – Legal
Kentucky – Legal
Louisiana – Legal
Maine – Legal
Maryland – Legal
Massachusetts – Legal
Michigan – Legal
Minnesota – Legal
Mississippi – Kratom is legal in much of the state. However, many cities and counties have made kratom illegal and the laws continue to evolve rapidly in the state.
Missouri – Legal
Montana – Legal
Nebraska – Legal
Oregon –  Legal
Rhode Island – Banned – however, there are strives being made to reduce the ban and make the herb legal. At this time, kratom users should definitely keep their eyes on Rhode Island's changing legal climate.
Continuing the List of States
North Carolina – Legal for anyone over 18 years old
Nevada – Legal
New Hampshire – Kratom remains legal statewide but Franklin City has declared the herbal supplement illegal.
Tennessee – Legal for anyone over the age of 21. Legislation is currently being reviewed that would allow the sale of kratom only in five to seven punch packets by local retailers but at this time it has not passed.
New Jersey – Legal
North Dakota – Legal
New Mexico – Legal
Ohio – Legal
New York – Legal
Oklahoma – Legal
Pennsylvania – Legal
South Carolina – Legal
South Dakota – Legal for anyone over the age of 21.
Texas – Legal
Utah – Legal. However, on March 26th, 2019 the state of Utah passed the Kratom Consumer Protection Act to regulate kratom and ensure that the herb undergoes stringent testing to ensure purity and safety to buyers and users. .
Vermont – Banned. At this time there is a review pending that might reverse the decision.
Virginia – Legal
Washington – Legal
West Virginia – Legal
Wisconsin – Banned. However, the state might end up lifting the ban within the next year if they pass the Kratom Consumer Protection Act.
Wyoming – Legal
Washington D.C. – Legal
Kratom Illegal or Legal: The Changing Climate
Using Kratom in the USA
There is no specific legislation targeting kratom at a federal level. However, the danger of a nationwide ban is always a threat because many federal, state, and local authorities continue to frown on the herb and view it as potentially dangerous. The legal fight over the herbal supplement is far from over.
Keeping Kratom Legal
If you use kratom and support keeping it legal then you need to remain vigilant and try to contribute to preventing a potential ban. You should only buy kratom from a reputable vendor.
Here are a few steps that you can take to protect the status of kratom:
Check out the vendor where you buy kratom to make sure they are reputable.
Always make sure the kratom that you purchase has undergone third-party laboratory testing to ensure purity and quality.
Never use a brand of kratom that has been involved in a scandal or has a reputation for selling less than pure kratom.
Always make sure the vendor you purchase kratom from follows the required rules and regulations.
Do not buy from a vendor who makes false claims about kratom.
Examine what the brand or vendor is doing to keep kratom legal.
Receive notifications on kratom's legal status from the American Kratom Association
Create a video testimonial on the American Kratom Associations' website to help keep kratom legal nationwide. The AKA works tirelessly to fight bans against kratom.
Contact your local and state representative to help keep kratom legal in your area or to encourage the lifting of a current ban.
Support the passage of the Kratom Consumer Protection Act to help keep kratom legal nationwide and to ensure that kratom remains safe for consumers.
At My Kratom Club, we sell a wide array of kratom brands HERE.