Have you been hearing a lot of talk about kratom lately? Learn where to buy kratom locally. 
Without a doubt, the herb's popularity has started to burgeon nationwide, so the demand is high.
Many new users are asking, 'Where can I buy kratom locally?'
In this article, we are going to look at your options for purchasing kratom whether in a rural area or a thriving metropolis.
Smoke Shops and Where to Buy Kratom Locally
Learning Where to Buy Kratom Locally
Classic smoke shops and head shops are often confused with each other. However, in many regions in a bid to survive the changing times, smoke shops and head shops have merged in many cases.
Smoke shops were once known as tobacconist or tobacco shop (hence smoke shop in later years).
In the United Kingdom, such businesses became known as CONTOB (confectionary and tobacco).
Historically, the establishments offer tobacco products and related accouterments like matches, pipe cleaners, pipers, matches, pipe tampers, ashtrays, hygrometers, cigar cutters, humidors, humidification devices, and more.
You could also always find books and magazines related to the enjoyment of tobacco.
In addition, connoisseurs could pick from a variety of hip flasks, confectionery, puzzles, figurines, games, walking sticks, and more. Such items were considered ideal gifts for gentlemen.
In the United States, the traditional smoke shop had a wooden Indian near the front door.
Nowadays, a smoke shop in the U.S. sells affordable cigarettes, cigars, chewing tobacco, pipe tobacco, dipping tobacco, smokeless tobacco, and roll your own.
Nowadays, many smoke shops now offer vaping supplies and herbal supplements such as kratom.
Buy Kratom Locally at Head Shops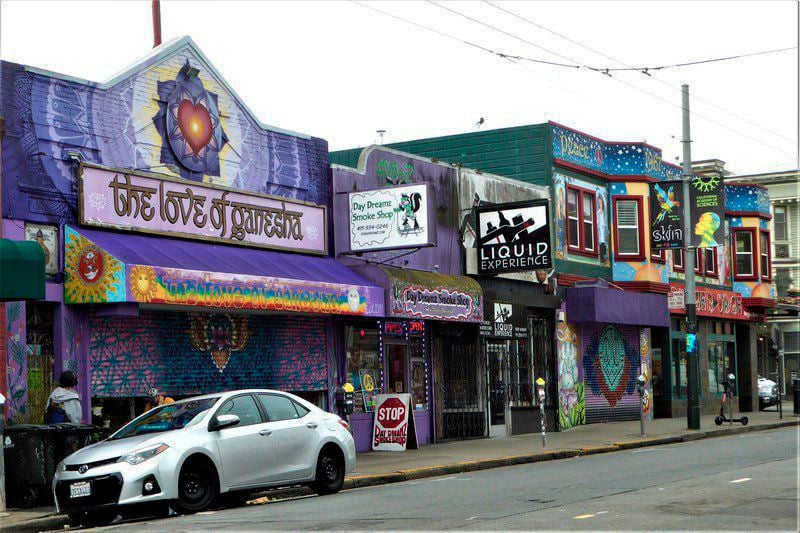 Where to Buy Kratom
American head shops first started to emerge in the 1960s in hippie hotspots like California and close to colleges and universities.
Historic head shops sprang up in New York's St. Mark's Place located in the East Village, West Los Angeles, Chicago's Old Town. and in the Haight Ashbury neighborhood of San Francisco.
The Psychedelic Shop located on Haight Street has the reputation of being the first head shop in the nation.
It was owned by Ron Thelin and his brother Jay.
The unusual business opened its doors on January 3, 1966. Within four months, Jeff Glick of New York City opened his own 'head shop' on East Ninth Street in New York City.
The Birmingham Balloon Company also threw open its doors in Denton Texas from 1968 to 1975, the unusual establishments started to spring up everywhere and they stood out as a hub for counterculture individuals who were looking for underground newspapers and other unusual items such as pipes and bongs for cannabis use.
In 1973, the U.S. Supreme Court Ruling of Miller v. California was passed which gave communities the legal right to act against head shops due to the so-called drug paraphernalia.
To survive, many of the businesses morphed into distinctive smoke shops that also sold eco-friendly products such as herbs, incense, and other subculture items related to acid rock and the psychedelic movement of the era.
Nowadays, head shops again sell a wide assortment of marijuana paraphernalia along with tobacco products and herbal supplements like kratom.
Is it smart to buy kratom locally from my smoke shop?
A lot of kratom users buy kratom from their local smoke shop the first time they ever use the herb. They see it sitting on a shelf or on display on the counter and it becomes an impulse purchase.
Others go to the smoke shop to find the herb at the recommendation of friends and family.
The only drawback about buying kratom at a smoke shop is that it might not be fresh. Sometimes, herbs sit around at a store for months and lose their potency or freshness.
Also, most smoke shops do not offer a wide array of brands but only a few so you don't have a lot of strains to pick between. In addition, many smoke shop employees really don't know anything about kratom so have a hard time answering questions or making recommendations.
Gas Stations – Buy Kratom Locally
Kratom is a Favorite at Truck Stops
Many users are surprised to see kratom at gas stations, especially truck stops. However, many long-haul trucks and individuals making a road trip try to find something to help them remain alert as they drive long miles into the wee hours of the morning.
Some stop to fill up their coffee mugs, others grab energy drinks, some peruse the caffeine pill section of the store, and others go with the herb kratom for a fast and safe kickstart.
Can I buy kratom locally from a gas station and is that a good idea?
Kratom brands at gas stations are typically low to mid-range quality. Such locations rarely carry premium kratom so you might not enjoy the full experience. Also, the product might be older so lacks freshness. Gas station employees also know extraordinarily little (if anything) about kratom so might have a hard time directing on the purchase.
Are there any other places in my area I can buy kratom from?
Learning Where to Buy Kratom Locally
In states where marijuana has become legal for recreational use, you'll often find kratom for sale at the dispensaries selling the cannabis.
At such locations, they tend to offer mid-range to premium kratom and a variety of brands.
Also, the staff has a good knowledge base about the herb, so can readily answer your questions about strains, potency, dosage, and more.
However, one thing to remember is that the prices are generally high at such locations.
Naturopathic stores are another hot spot to check for kratom.
Many such shops have started to offer the herb for sale and they sometimes don't' have a bad selection.
Their prices are sometimes higher than you can buy online, but if you are out of kratom and you don't want to wait for an online vendor to ship your product to your front door, then you'll want to check out such locations.
Is kratom legal in my local area?
Kratom is legal in the United States.
However, some towns and counties have implemented their own laws concerning kratom's legality, so you'll need to check and perform research to find out about kratom legalities in your area.
What type of selection will I most likely have at my local gas station, smoke shop, or another nearby kratom place?
The big question; selection.
You want to pick from various strains and brands so having an impressive selection has become a necessity if you want to buy kratom locally.
However, your local gas station or smoke shop will probably lack any meaningful choices. An MJ dispensary probably affords greater diversity.
Do my local stores test the kratom?
Kratom Vendors
Your local stores do not test the kratom that you buy.
However, some brands offer third-party laboratory testing on their kratom products.
You'll want to become familiar with the different kratom brands so you can find one that genuinely cares and provides independent third-party laboratory testing to make sure that the kratom you purchase is safe and potent.
My Kratom Club is an online kratom vendor.
We offer a wide assortment of premium kratom brands at quality prices.
In addition, our customer service representatives know kratom so can easily answer all your questions.
Yes, you might want to buy kratom locally but if you want a top-shelf herb then ordering online is your best bet.
Please contact us to learn more.